Why outsourcing content is a great move
Why outsourcing content is a great move, even if you have an in-house marketing team
With the demand for engaging marketing content growing, outsourcing can help busy in-house teams scale their operations to reach larger audiences.
By now, practically every digital marketer will have heard the phrase 'content is king'. Though that phrase is undoubtedly overused, there is also a lot of truth in it, and we're not just talking about its critical role in search engine optimization (SEO) either.
Inbound marketing content, such as blog posts, whitepapers, and case studies, are essential for engaging key decision makers among potential B2B clients. Great content goes far beyond simply enhancing visibility in search results to making a lasting impact on your brand. To that end, it informs, educates, and entertains to build brand recognition and trust and address some of the key pain points among your target audience. Moreover, having the right content strategy is vital at every stage of the sales funnel from multi-channel lead generation to securing loyalty among your most valuable customers.
Without a steady stream of relevant, high-quality content, your brand may as well be invisible.
Why time and money are the biggest challenges
Every B2B sales and marketing leader knows that multi-channel content marketing is essential for branding, engagement, and customer loyalty. The more content they have, the better. By far the biggest challenge is finding the time to produce enough to keep up with the competition without compromising quality and relevance.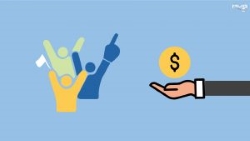 For smaller B2B organizations, this quickly becomes a practical impossibility. It's never long before in-house marketing teams become overburdened and face the dilemma of whether to scale back their operations or hire new employees. However, given that a full-time content strategist commands an average salary in the US of almost $100,000, that becomes a major cost burden – and that's before hiring a team of content writers.
Overcoming the dual challenges of time and money does not get any easier as an organization scales up either. As businesses expand their reach, so too do their marketing requirements. When that happens, in-house teams can end up bursting at the seams to meet demand.
Why outsourcing presents a better solution
Fortunately, there is a better alternative in the form of outsourcing. Outsourcing offers a much more scalable approach, since services are available to you on demand. For example, a small business probably doesn't need a full-time content strategist. Neither are they likely to need a full-time in-house content writer.
Larger businesses may have a stronger case for onboarding their own content strategists and in-house writers but, once again, relying entirely on an in-house team inherently lacks agility and scalability. For example, your need for content may ebb and flow depending on the time of year. Demand might be greater or lower during holiday seasons, depending on the industry. Demand may peak dramatically ahead of certain corporate events, funding rounds, or other major business changes. Every marketing team, no matter the size or industry, must be able to accommodate these peaks and troughs in demand.
B2B marketing leaders should also avoid underestimating the management burden of relying purely on in-house teams, especially where larger projects are concerned. Such cases present a risk of falling into the micromanagement trap, in which marketing leaders and key decision-makers find they have no time left to focus on high-value strategic initiatives.
These are just some of the key reasons why outsourcing content marketing makes sense for any B2B business, regardless of its size or industry. With that being said, we should also say that it is not about replacing your in-house team, but about augmenting their capabilities with a scalable, on-demand service offering that helps you become more agile. Only then can you truly realize the full potential of content marketing.
PMG360 provides outsourced content marketing services to alleviate the burden on in-house teams, giving them the opportunity to focus on core competencies and business strategy. Get in touch today to discuss your needs.