DIGITAL DISPLAY ADVERTISING
Digital display advertising is one of the most effective ways to reach your target audience. Your message will be seen by millions of people across the web, and it has the potential to generate a significant return on investment (ROI). PMG360 can help you create an effective digital display campaign that will reach your target audience and help you gain valuable market share. We have a team of experienced professionals who will work with you to create high-quality ads that are designed to achieve your specific objectives.
PMG360 First Party Data
Invaluable Behavioral and Intent Data
First-party data is the gold standard. It connects direct audience relationships with their unique web actions. This produces invaluable insights for individual behavior and intent enabling pinpoint targeting across the web.


PMG360 Digital Display Audience
Over 59 million Decision-Makers.
Targeting our 6 million first-party subscriber audience will afford you unprecedented access (opportunity?) to impress (share?) your brand with timely offers to decision-makers. These professionals are actively engaged across the PMG360 network making them prime prospects for your offers.
Want to See What We Can Do for You?
Download the case study to learn how we can provide similar results for your business.
APPROACH
PMG360 AUDIENCE BREAKDOWN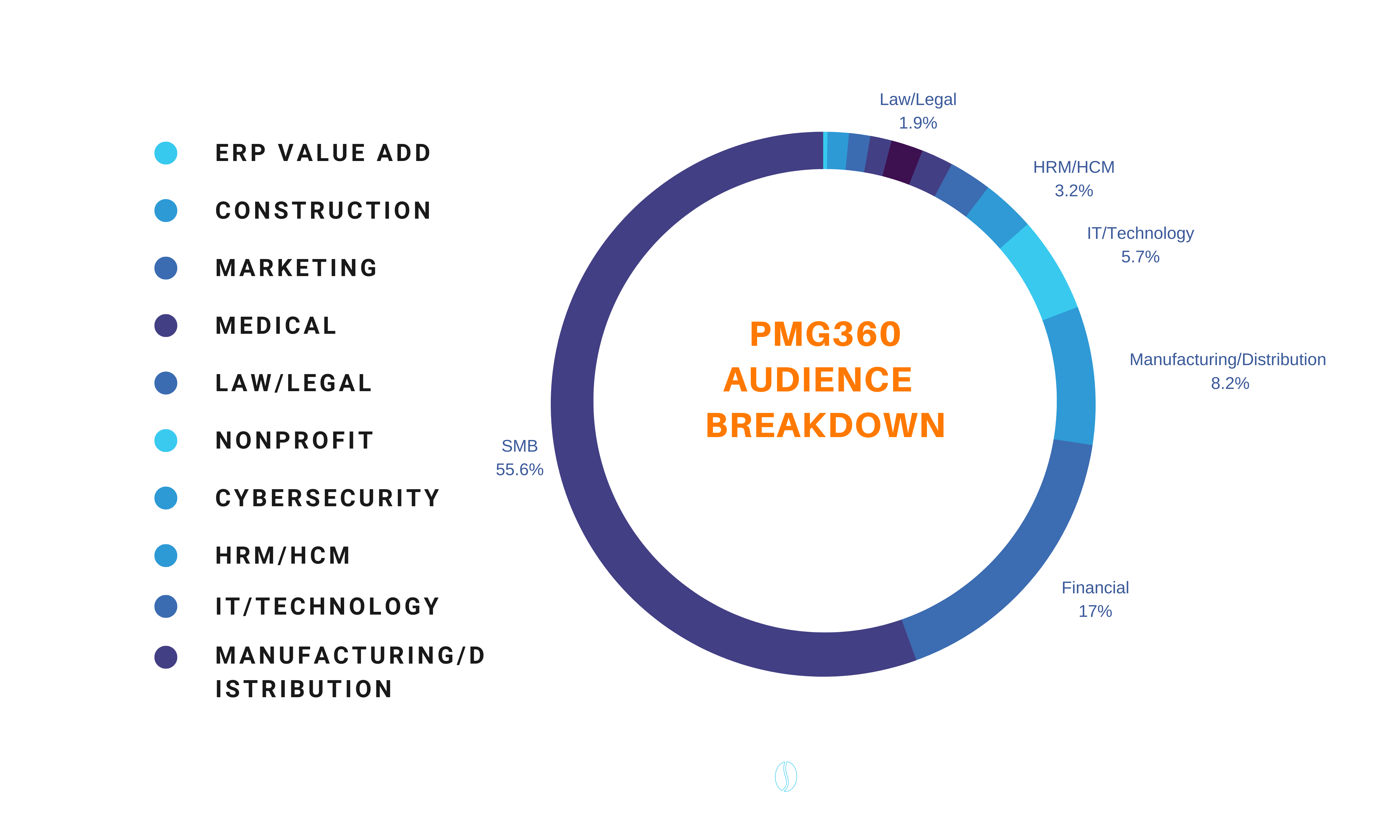 Testimonials
WHAT THEY SAY
The customer service and leads that we generate from PMG360 are exceptional. They are always accurate and respond better than leads that we generate from all other firms.
I love working with the team at PMG360. They are highly responsive and flexible, adapting to change orders seamlessly, which only increases the value of the relationship. The cost-effectiveness and accuracy of the whitepapers maximize our content marketing ROI. I look forward to our continued partnership with PMG360.
Working with PMG360 was a fantastic experience. We established a symbiotic relationship. They were agile and truly listened to our evolving needs. Our campaign met and surpassed our initial goals. The ROI with this campaign was significant.
1,174 +
Projects Completed Per Year
126,000,000
Decision-level subscribers
100 +
Fortune 500 Customers
Ready To Grow Your Pipeline?
Our team of professionals is ready to discuss your project and offer a cost effective way to promote your business to generate quality leads for your sales efforts.