The data that you license from PMG360 is some of the most robust and reliable data in the industry. We understand that data is critical to your marketing efforts, which is why we only release data that is accurate and up-to-date. With our data license, you can be confident that you are using the best data available to inform your marketing decisions.
High-Quality Data Is All About The Source
One of the challenges with data is ensuring that you have quality data and good data hygiene habits. Your company can run the greatest marketing campaign ever, but if you have poor data quality your lead conversion rates will suffer. Quality data is precisely what makes PMG360 your trusted data partner.
PMG360 Data Integrity
Multi-Step Verification and Communication Process
Prior to licensing a contact to a customer, we run it through a 15-step quality control process. This extensive process includes multiple email communications, third-party verification, engagement tracking, and social media cross-referencing to ensure that the data is current and accurate.
Want to See What We Can Do for You?
Download the case study to learn how we can provide similar results for your business.
Decision-Makers in Various Verticals
PMG360 AUDIENCE BREAKDOWN
Our audience comprises a diverse group of business decision-makers across many key markets and company sizes within the US.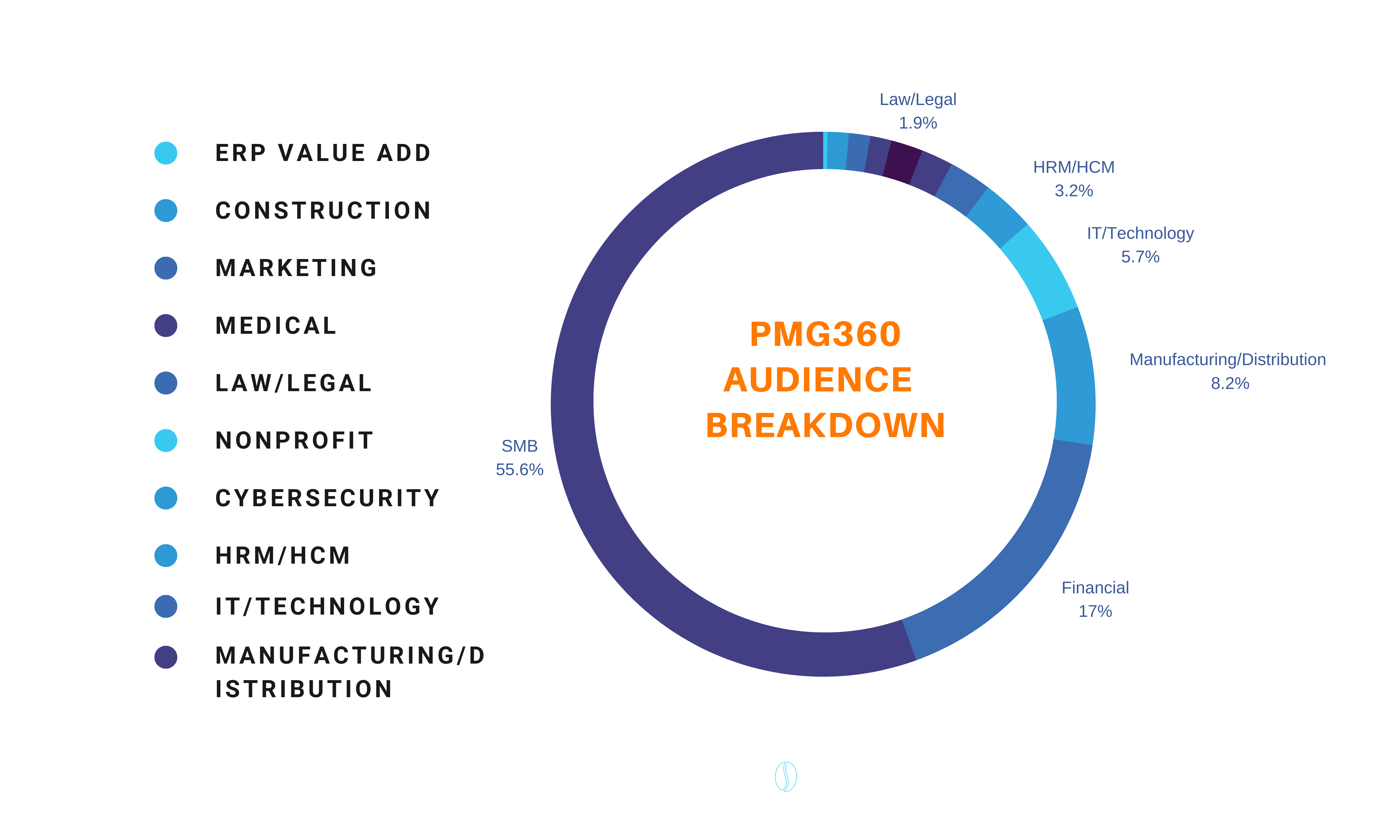 Testimonials
WHAT THEY SAY
The customer service and leads that we generate from PMG360 are exceptional. They are always accurate and respond better than leads that we generate from all other firms.
I love working with the team at PMG360. They are highly responsive and flexible, adapting to change orders seamlessly, which only increases the value of the relationship. The cost-effectiveness and accuracy of the whitepapers maximize our content marketing ROI. I look forward to our continued partnership with PMG360.
Working with PMG360 was a fantastic experience. We established a symbiotic relationship. They were agile and truly listened to our evolving needs. Our campaign met and surpassed our initial goals. The ROI with this campaign was significant.
Ready To Grow Your Pipeline?
Our team of professionals is ready to discuss your project and offer a cost effective way to promote your business to generate quality leads for your sales efforts.